Sarah and Tom Trunk Bay St. John Destination Wedding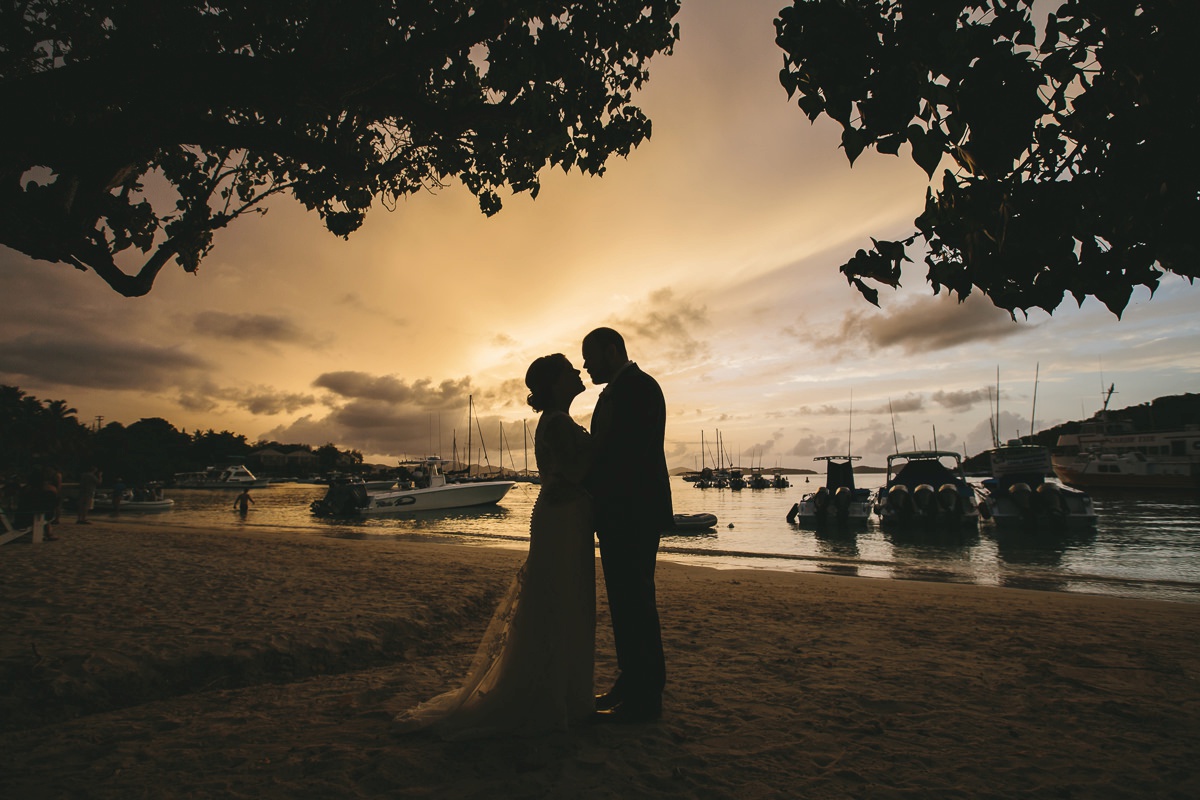 Sarah and Tom were married in a destination wedding on May 20th, with a ceremony at Trunk Bay St. John and a reception at the Waterfront Bistro.

These two met at work at the New England Baptist Hospital. Sarah knew immediately that there was something there, but Tom was oblivious. So, they remained good friends for 6 years before finally, on a whim, deciding to try dating each other. Once they started to explore a romance, they realized that they had grown up less than a mile from each other but never met until after college because they went to different schools. Despite not knowing each other, their friends and family were all connected, leading them to say that they were "meant to be before we were even aware."
They love to travel together: to Costa Rica and Nicaragua, Cape Cod and New York, and everything in between and knew they wanted to have a destination wedding to reflect that passion. In the months leading up to their wedding, I was able to speak with them and learn about the importance of their destination in particular. Trunk Bay St. John has become a traditional family vacation spot for Tom's family, and the last time they went, Tom and Sarah got engaged! As they prepared for their wedding, they were so excited to share that island paradise—in body and mind—with their friends and family.
When the big day finally came, we started out at Villa Panache, a private villa that Sarah and Tom rented out so that their family could stay close by. Sarah and her sister, Samantha, had their hair and makeup done in the main villa. Tom, along with his dad and his best man and his cousin Alex, relaxed with family.
We set up a first look at the Villa in a nice, tucked-away place that I had scouted out beforehand, surrounded by gorgeous bamboo overgrowth. It was the perfect spot for the bride and groom to greet each other and kick off the day. I think the photographs perfectly captured their excitement in that moment.
On the way to the ceremony, we paused for some portraits. We simply had to take advantage of the amazing vistas and give Sarah and Tom the time to soak in the day together. The photographs from this time truly showcased the natural beauty of the island, as well as the obvious admiration and affection these two shared. And of course, the anticipation of what was soon to come!

The ceremony at Trunk Bay St. John was beautiful, as even the pelicans and other island birds gathered in the water to be part of the excitement. It was obvious in the moment—and in looking back on the pictures—that their family was so proud of them, and so happy to be there.
One of my favorite moments of the day was right after the ceremony as I explored the beach with the bride and groom. They were on such a high to be finally married! Watching them soak up the beauty of the beach as they walked along the shore in their wedding attire was an incredible experience.
After we had explored for a while, we joined the party at Waterfront Bistro surrounded by friends and family enjoying the sunset and dancing the night away. Sarah and Tom had so many fun little details—like the steel drum player during the cocktail hour, the beautiful sand dollar place cards, and the unique coral centerpieces. All of these details brought the attention back to the place that means so much to them as they were so thrilled to share it with the people that meant the most to them.
Not long after the wedding, I sat down with the happy couple for the Cinematic Premiere of their photographs and their Album Design Consultation. They were so gracious as I showed them my work, and it meant the world to me that I was able to give them that experience and watch them relive their wedding all over again through those images.
Thank you to Sarah and Tom for bringing me on this adventure to St. John! I loved photographing such an important weekend for you, and I'm so excited for you to look back on this day through your beautiful wedding album for years to come!
Vendors:
Wedding Coordinator: Island Bliss Weddings 
Ceremony venue: Trunk Bay 
Reception venue: Waterfront Bistro
hair and makeup: Sugar and Spice 
cake: Queen of Tarts
Bride gown designer : Mori Lee  purchased at Bride n Belle  
Groom: Custom suit from JOS.A Bank – 1905 Collection