Haymakers for Hope's Belles of the Brawl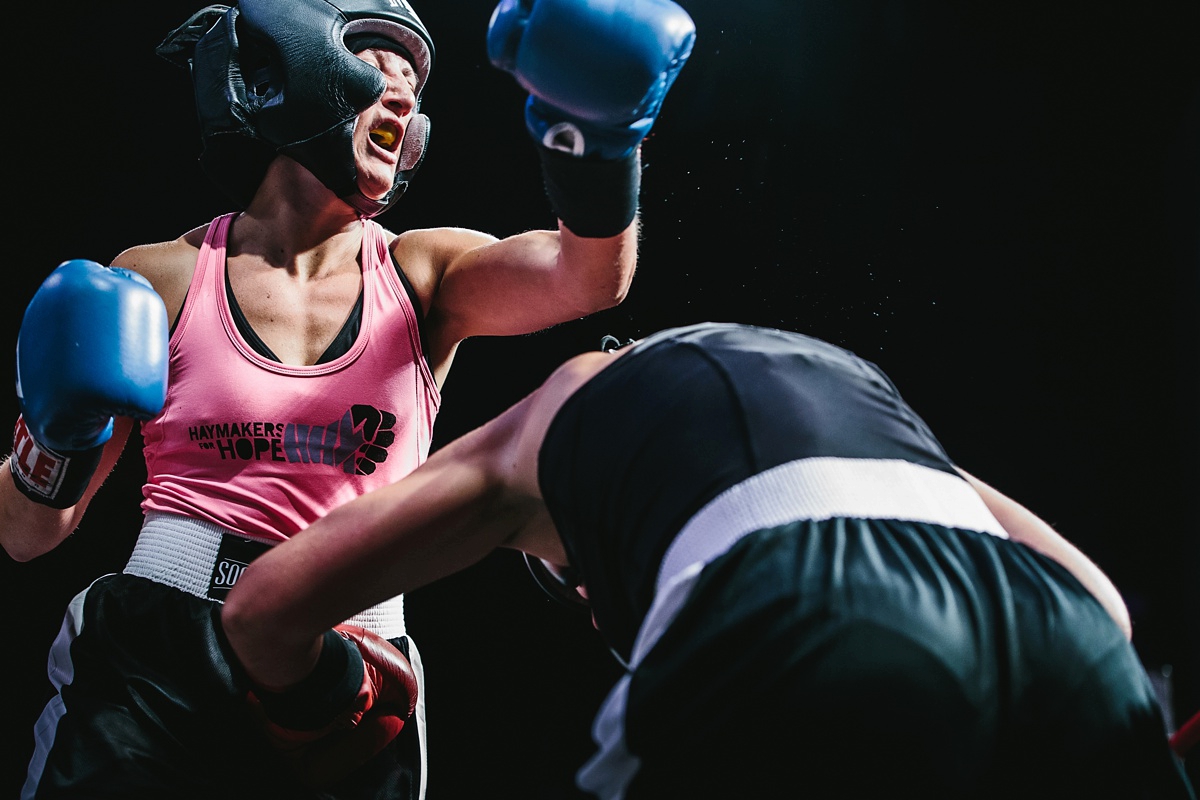 It was a privilege to step outside the realm of weddings and family sessions to photograph something also emotionally charged in a completely different way. I got into boxing about a year and a half ago when I joined Everybody Fights in South Boston, and instantly fell in love with the adrenaline, and the empowerment that comes with pushing oneself physically and reaching new goals and levels of physical fitness. The transformation, and elevation of one's self confidence is something that I am very passionate about, and keep at the center of why I do what I do.  I love seeing and documenting women tap into a power, and confidence that they might not have known previously. When I was asked to photograph Belles of the Brawl, there was no doubt in my mind this would be an extremely powerful experience all around.
The Philosophy Behind Belles of the Brawl
Jordan, from Haymakers for Hope, explained the thought behind the event:
"On Thursday, October 5th, 32 women stepped in the ring for Belles of the Brawl V at Boston's House of Blues for their very first amateur bout. After training for training for just four months, these women fought their hearts out and left their blood, sweat, and tears in that ring, all while 1,700 fans cheered their faces off. As a collective group, over $450,000 was raised to help Knockout Cancer! While boxing is certainly in our DNA, we are a non-profit whose primary mission is to knock out cancer. It's events like Belles of the Brawl V that really show the power of a community with a shared mission."
When I arrived at the House of Blues, I went backstage, where the fighters for team Everybody Fights were having their hands wrapped by their coaches, and putting on their Society Nine gear. I take boxing classes with the trainers a few times a week, so I recognized a few of the fighters that I'd seen sparring in the ring preparing for that night. I couldn't help feeling proud and excited for these women and how hard they'd worked, pushing themselves mentally and physically, to prepare for that night.
One of my favorite moments was seeing Alice Liao shadow-boxing in the hallway, right next to the balcony where other fighters were watching the current match from high up. The tension, the nerves, the excitement, and the focus as they got pumped up to enter the ring was palpable. I love the anticipation of what's to come; it felt almost theatrical at times, but still very real.
The Thrill of Boxing
Jackie Jane, one of the fighters from my gym, also gave the most amazing quote about this event:
"Training and fighting in Belles of the Brawl was such an amazing experience. As physically grueling as the training was, it was just as mentally and emotionally challenging, and I know I'm stronger because of it. Fight night was the best night of my life to date—all of our blood, sweat, and tears leading up to this event. The feeling of having my hand raised after my fight was so gratifying, but even more meaningful was seeing the hundreds of faces of friends, family, coworkers, and fellow boxers who were there cheering and supporting me. I'm so grateful to have gotten this opportunity."
To me, the last round is the most exciting, because it becomes mental and hangs on the determination and focus of the fighter to see it through to the end. The match is truly a test of personal strength and will rather than a fight from a place of animosity, and my favorite moment from the rounds was always when the women hugged each other after the winners were announced. I think they respect each other as much as themselves for the hard work that they put in.
Of course, there's nothing like winning, and I particularly adore the photograph where the ref is holding up the hand of the woman in pink. Her expression is priceless! She's so shocked and ecstatic to have won, and you can see her enthusiasm and joy radiating from her—along with the sweat from the physical work she just put in.
Haymakers for Hope is an amazing organization that encourages everyday people to reach a whole new level of physical achievement—but first and foremost raises significant funds for research to end cancer. I'm so grateful that they asked me to be part of this event. I encourage you to keep up to date with the schedule of the upcoming events at their website, and let's #KOCancer together. 
**If you wish to obtain copies of these photographs for personal use, advertising, editorial, social media etc, please get in touch: hi@lindsayhitephotography.com Thank you!