Artists for Humanity Epicenter Styled Shoot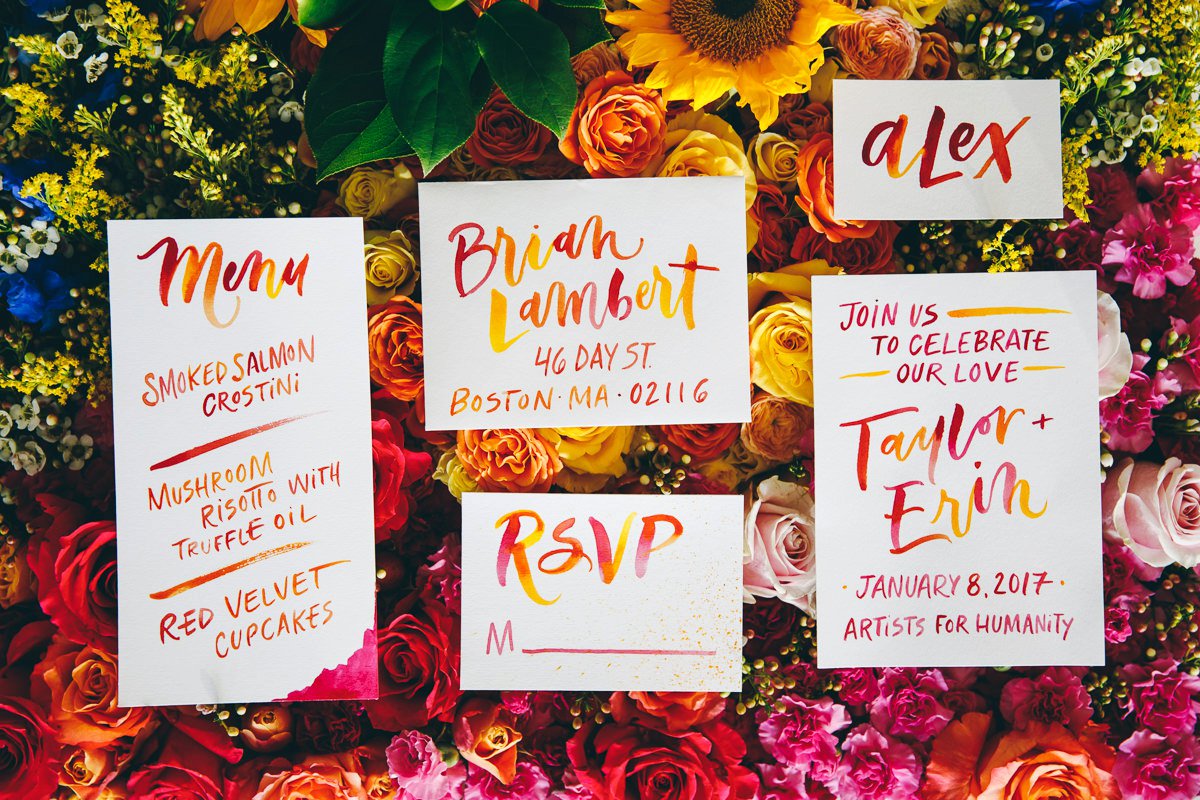 I am so pleased to share this styled wedding shoot I captured at the Artists for Humanity Epicenter in Boston. This shoot was an amazing collaboration with such a great group of creative individuals. I planned this shoot with stylist, planner, and designer Alexis Orellana of Neon Event Productions.
While you are enjoying the fruits of our creative labor, here is the actual playlist that was curated for our shoot that day by the talented modern wedding & event DJ, Sounds Buono. Click here to enjoy the playlist.
This shoot was featured on the blog, Rock n Roll Bride, and was a true celebration of love, friendship and joy.
I loved planning this shoot with our team, because everyone brought such a positive and creative energy to the project. It was so much fun to play with color and light in a neutral space. While we were designing this shoot, we had a very clear vision of the couple who would host this wedding. The couple we had in mind was two women who live in the city and want to celebrate their urban neighborhood by using a beautiful, clean, industrial space.
Our color inspiration for the decor was pure, saturated color with a touch a whimsy. We also wanted to include a healthy amount of contemporary color blocking. This fun, bright palette was such a beautiful contrast to the neutral tones of the concrete, glass and metal in the space. The setting and decor combined to create a lively and playful atmosphere for the joyful celebration of their marriage. As Alexis said, "What better way to celebrate winning at love than being surrounded by bright, bold, cheerful color?"
We infused the whole space with color, from the ceremony backdrop to the hand painted table runners. The idea was to make guests smile. The rainbow of colors touched every detail, down to the bright punch of color the starfruit garnish added to the champagne punch. The brides, both in white, looked amazing against the bright and festive backdrop of colors.
Our couple and their friends are creative and invested in the community, so of course, the venue for their wedding would be a location that reflects this passion. With that inspiration in mind, the space we chose to hold the shoot houses a wonderful organization, Artists for Humanity. Their mission is "to bridge economic, racial, and social divisions by providing under-resourced urban youth with the keys to self- sufficiency through paid employment in art and design." We thought this would be an inspired choice for our couple, especially considering the rental fee at the Artists for Humanity Epicenter helps to fund the employment of over 250 under-resourced Boston teens annually in art and design.
Alexis summed up the day beautifully as she said, "Designing such a colorful upbeat celebration was refreshing; I don't think anyone stopped smiling the entire day!"
I especially loved the portrait of our two brides from underneath one of the silver chairs. It was so much fun to incorporate this beautiful surface to make creative portraits. I also loved the playing with colored gels to make colorful "editorial" style portraits later in the day.
Thank you so much to all of the incredible creative professionals who contributed their time and talent to this fun shoot. It was such a joy to collaborate with you! I hope this shoot can inspire others as much as it inspired me.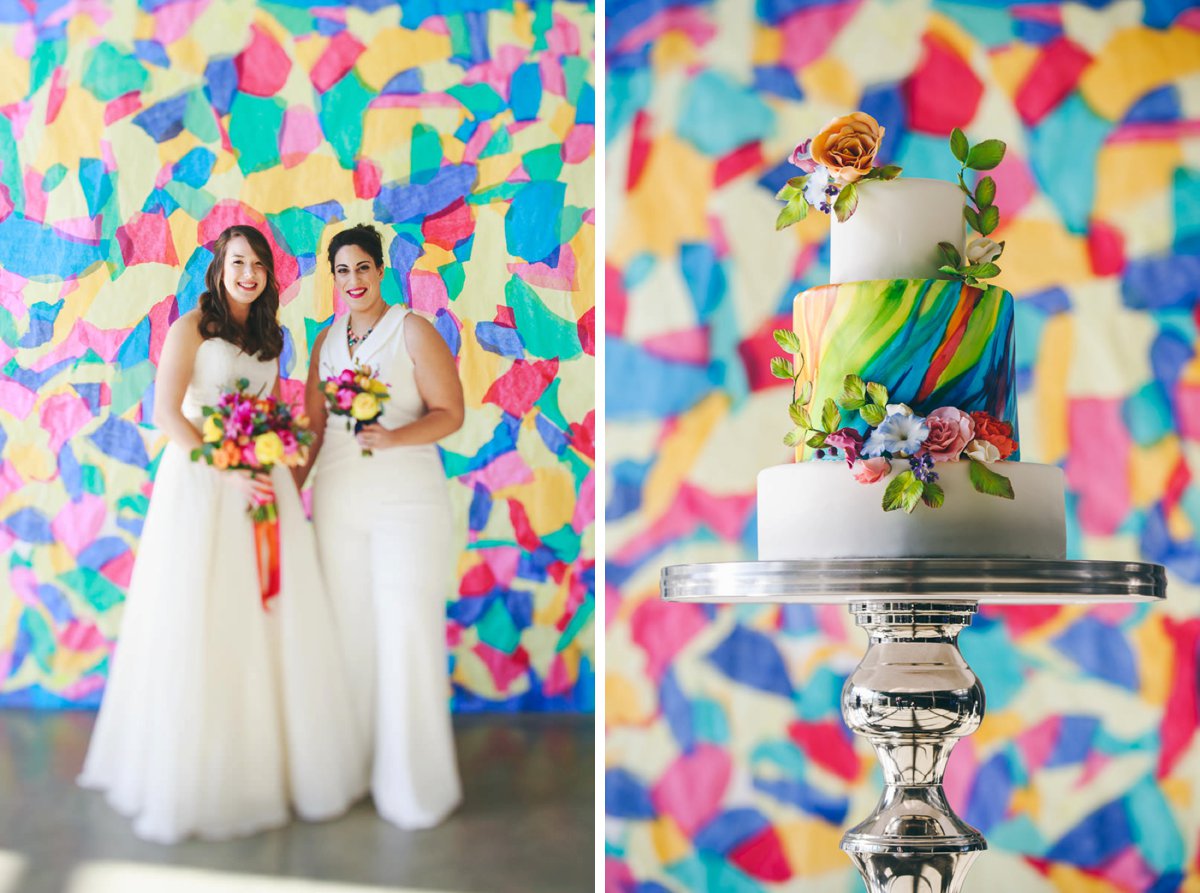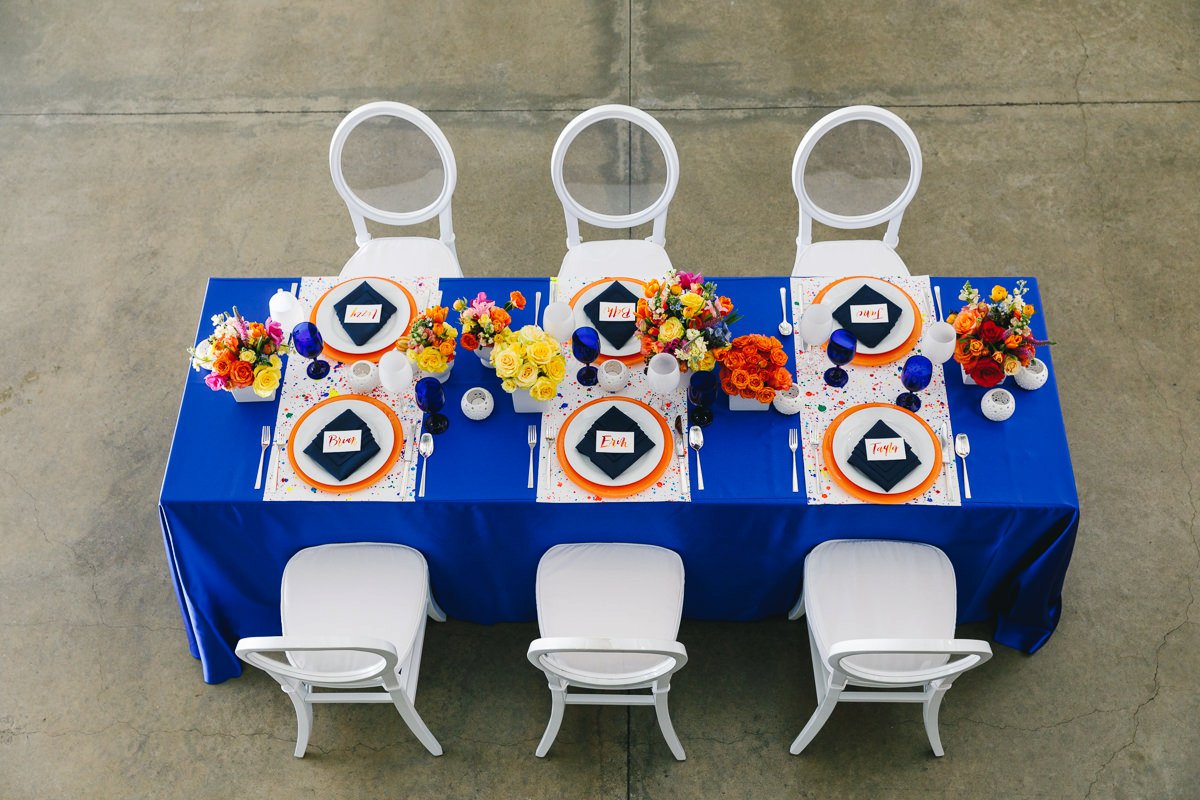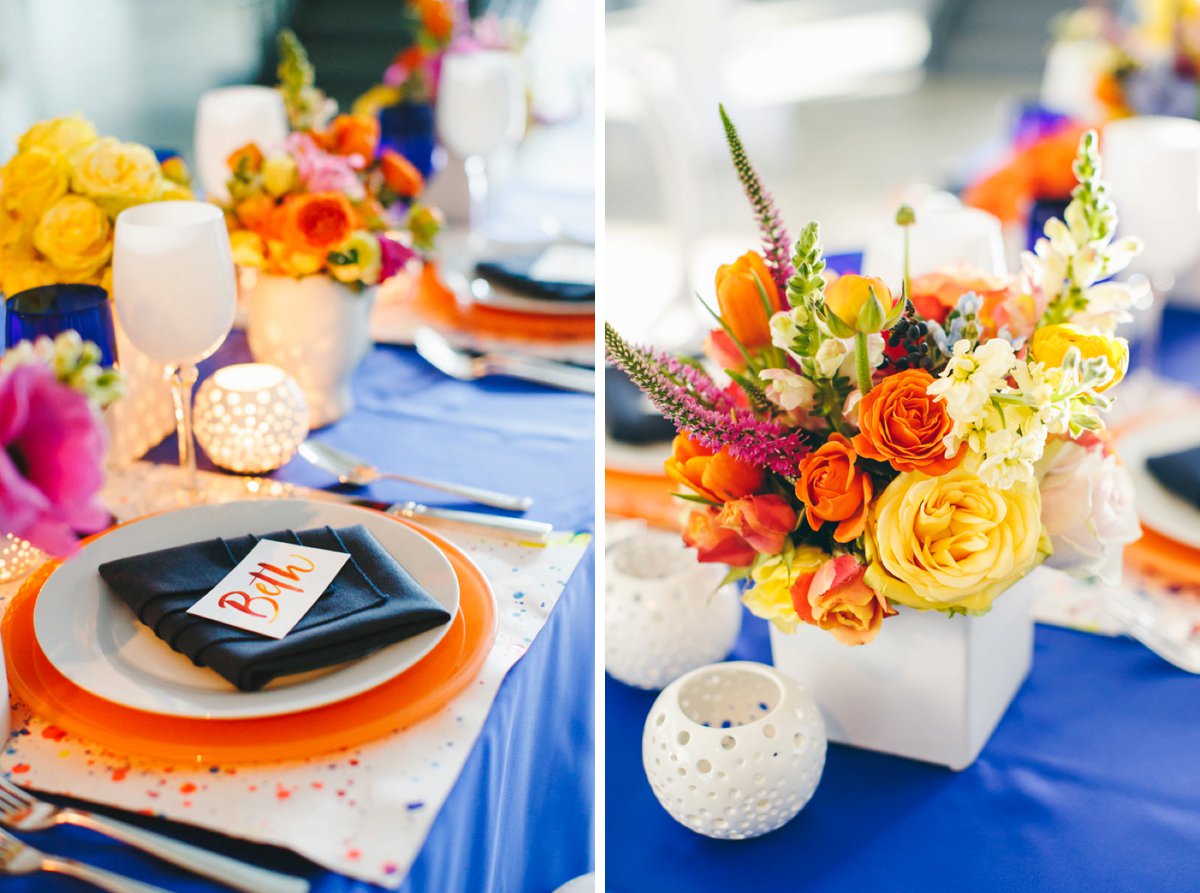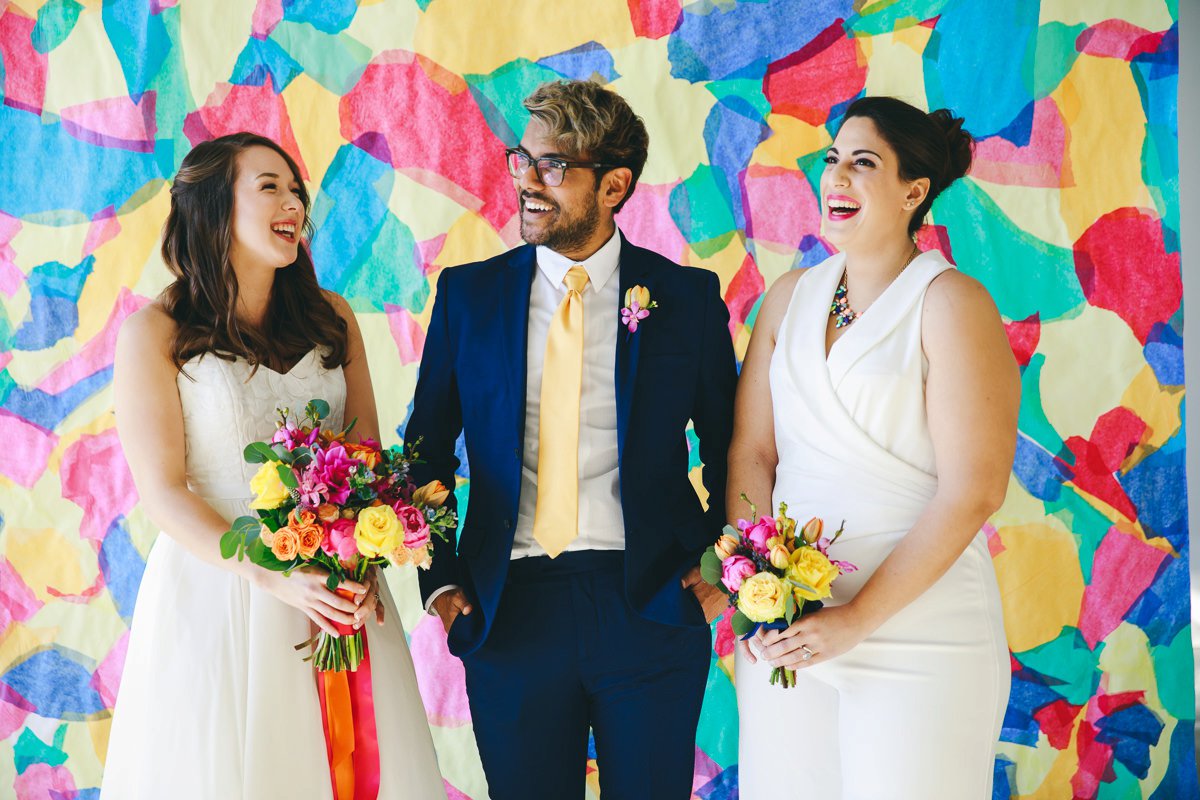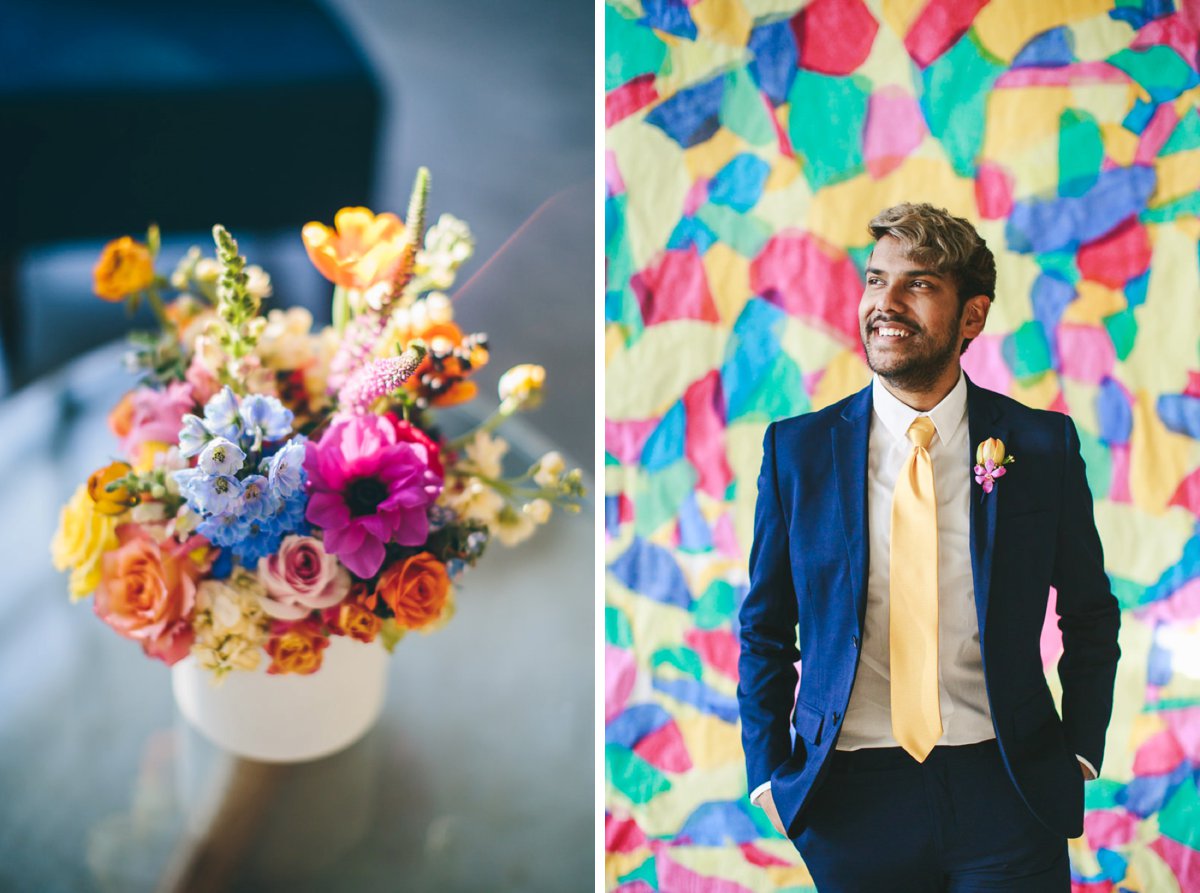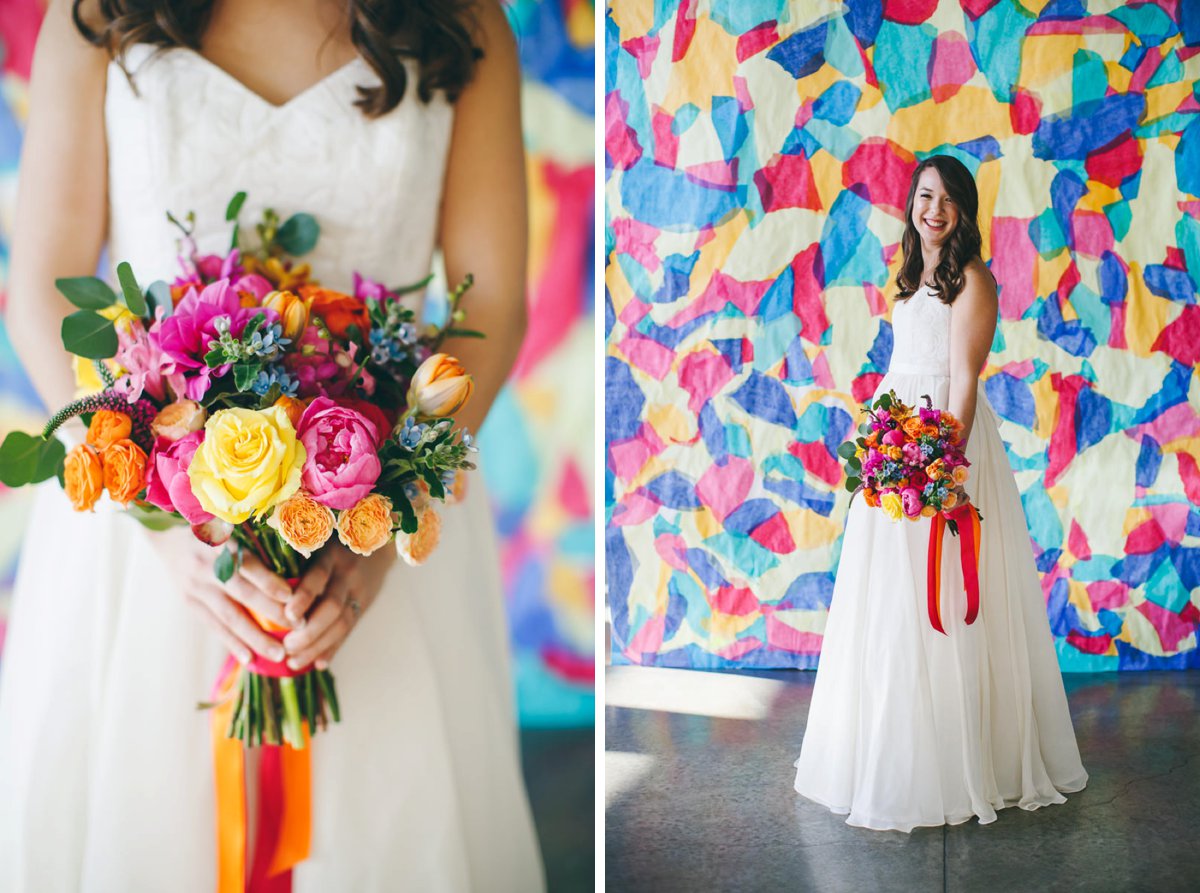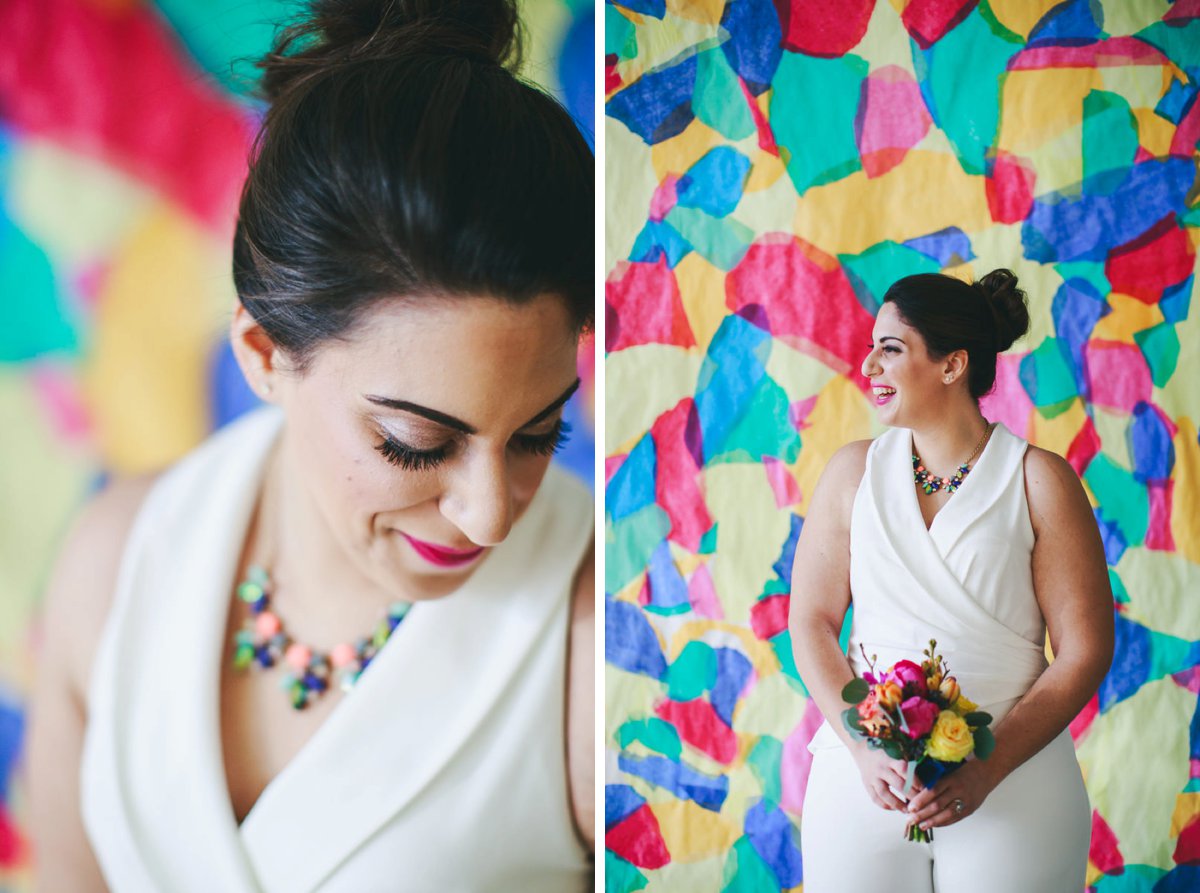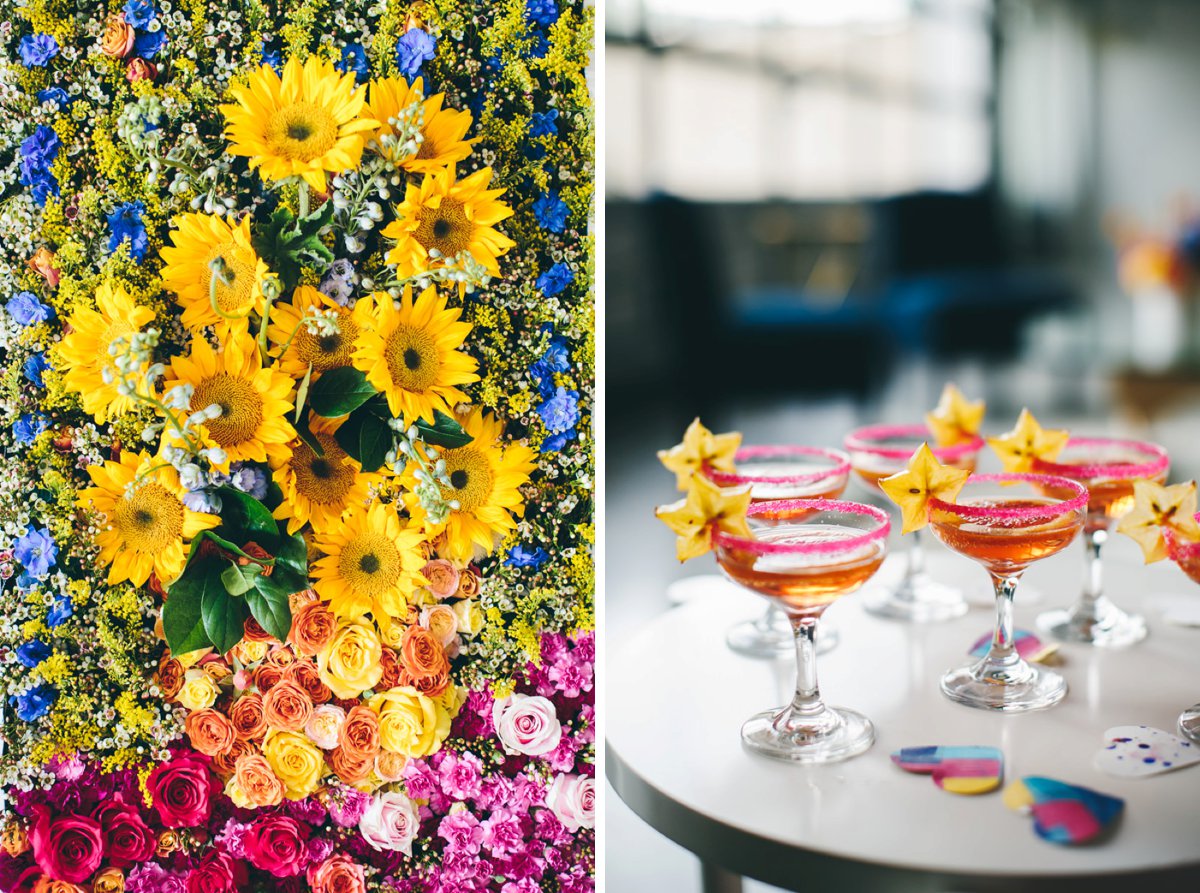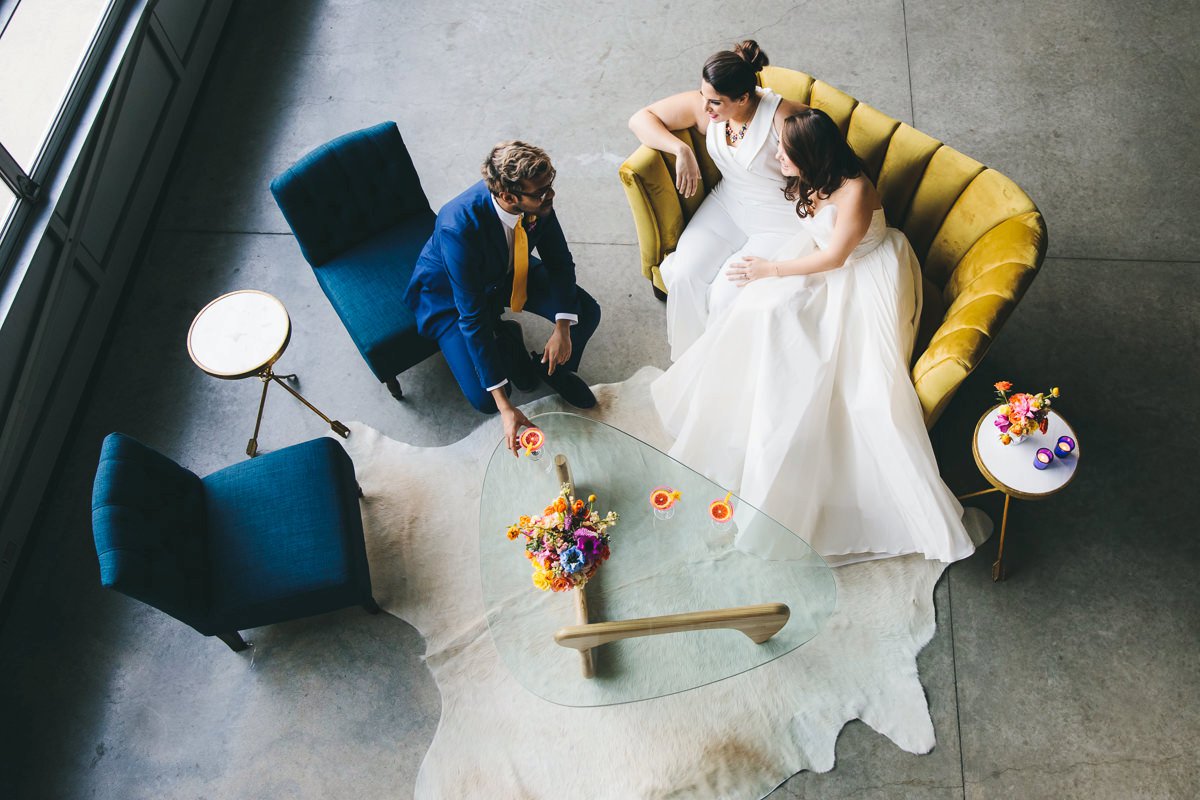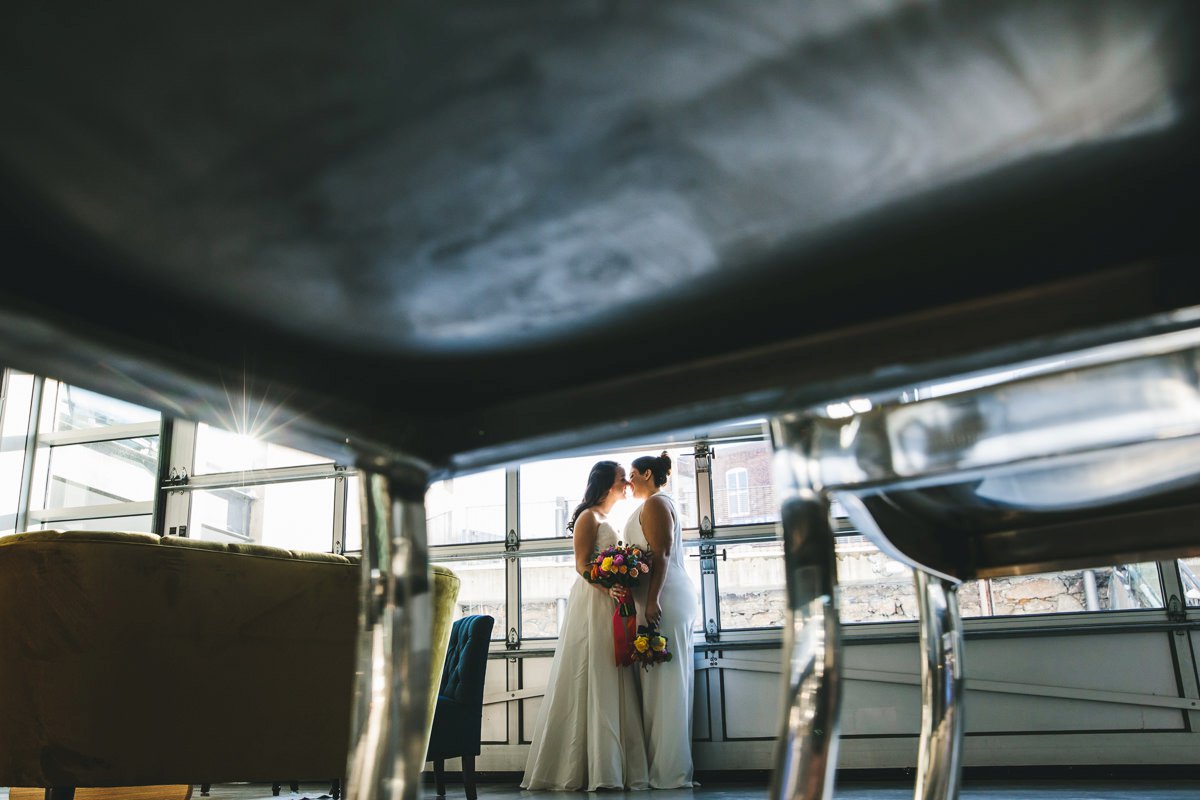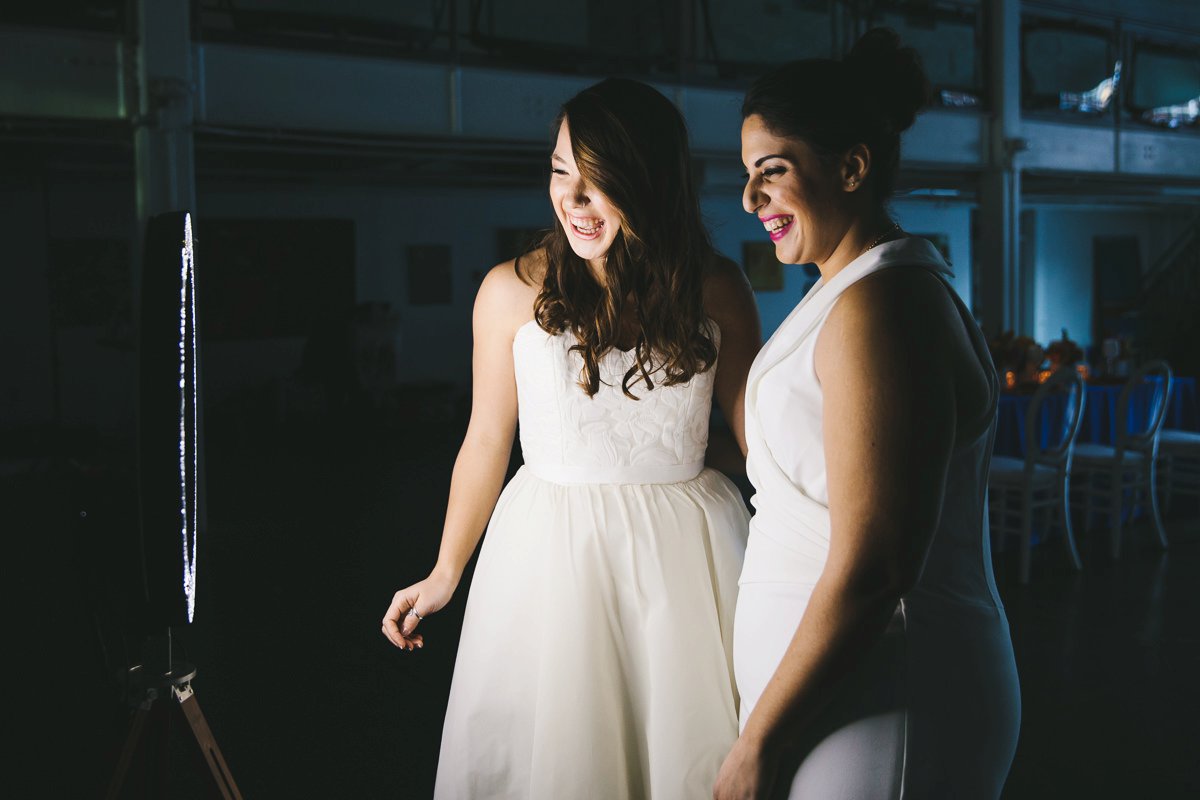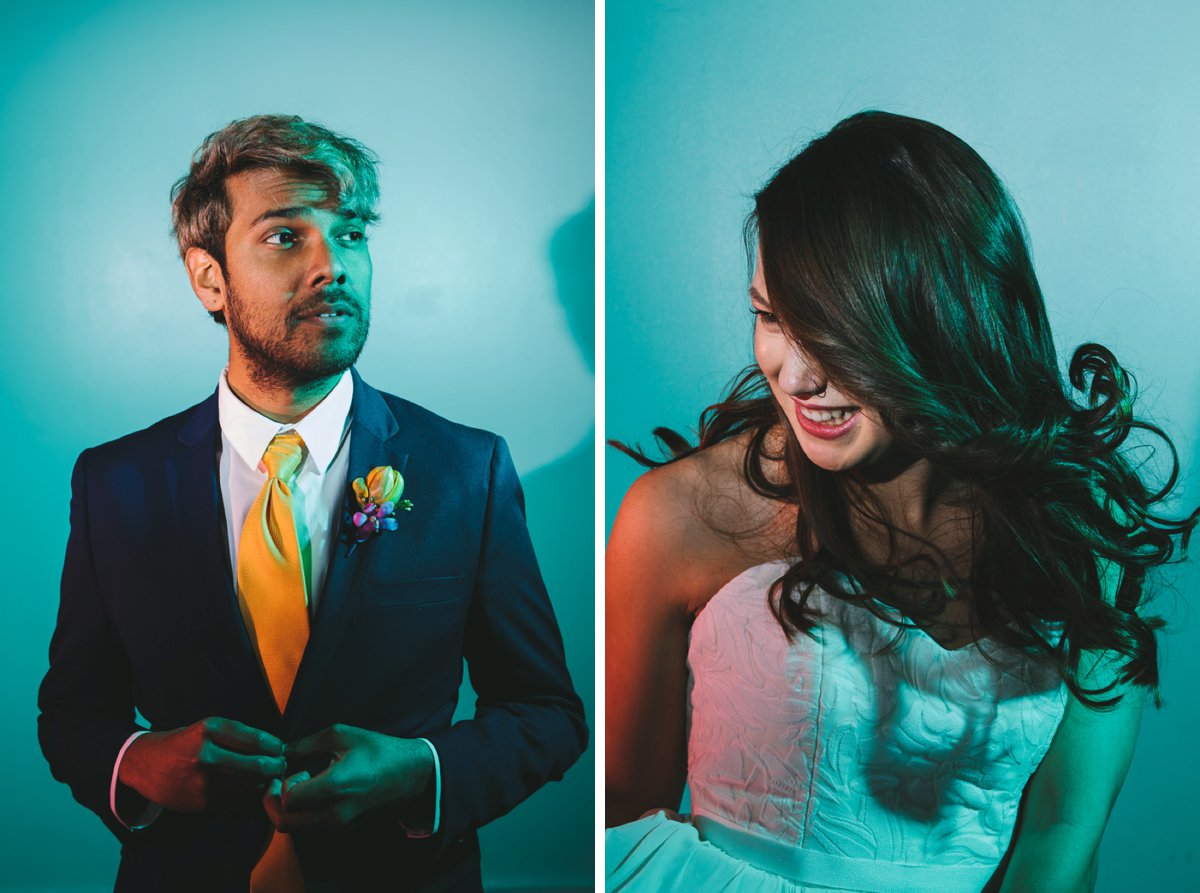 Credits:
Cinema: Readyset[film]    (see above!) 
Bride's dress: Your Dream Bridal    
Bride's jumpsuit: David's Bridal
Best man's suit – H&M
Cake: Oakleaf Cakes
Event planning & design: Neon Event Productions
Florals: Jasper and Prudence
GIF photo booth: BostonGIF
Makeup: Makeup By Sarah Lord
Hair: Callie Hefferan 
Rentals: Reserve Modern 
DJ and curated soundtrack (day of): Sounds Buono
Stationery: Extras By Alaina